Prescribing errors in general practice are an expensive, preventable cause of safety incidents, illness, hospitalisations and even deaths. Serious errors affect one in 550 prescription items, while hazardous prescribing in general practice contributes to around one in 25 hospital admissions.
Outcomes of a trial published in the Lancet showed a reduction in error rates of up to 50 per cent following adoption of PINCER – a pharmacist-led IT intervention for reducing clinically important errors in general practice prescribing.
These original PINCER indicators have been incorporated into National Institute for Health and Care Excellence (NICE) Medicines Optimisation Clinical Guideline (May 2015).
How it works
The PINCER intervention is led by primary care pharmacists and pharmacy technicians. It involves searching GP clinical systems using computerised prescribing safety indicators to identify patients at risk from their medications and then acting to correct the problem.
With funding and support from the Health Foundation and East Midlands AHSN, PINCER was rolled out to more than 360 practices across the East Midlands between September 2015 and April 2017.
This involved:
Using software to search clinical systems to identify patients at risk of hazardous prescribing
Conducting clinical reviews of patient notes and medication
Carrying out root cause analysis and providing feedback to the practice
Establishing action planning to improve systems and reduce risk
Establish action planning to improve systems and reduce risk
Scale up PINCER using a large-scale Quality Improvement Collaborative approach.
More than 2.9 million patient records were searched, and 21,617 cases of potentially hazardous prescribing were identified.
Preliminary results show that as a result of the study there was a significant reduction in hazardous prescribing for indicators associated with gastrointestinal bleeding, heart failure and kidney injury.
A number of AHSNs have now also implemented PINCER in their regions, including Wessex AHSN who have introduced it to 237 GP practices and are an early adopter of PINCER 3.
A more detailed evaluation of the PINCER rollout linked with Hospital Episode Statistics and ONS mortality data is being undertaken as part of a £2.43 million NIHR Programme Grant for Applied Research
It is anticipated that use of PINCER will result in fewer medication-related hospital admissions and cost savings to the NHS.
Click on the report below to read the most recent progress report.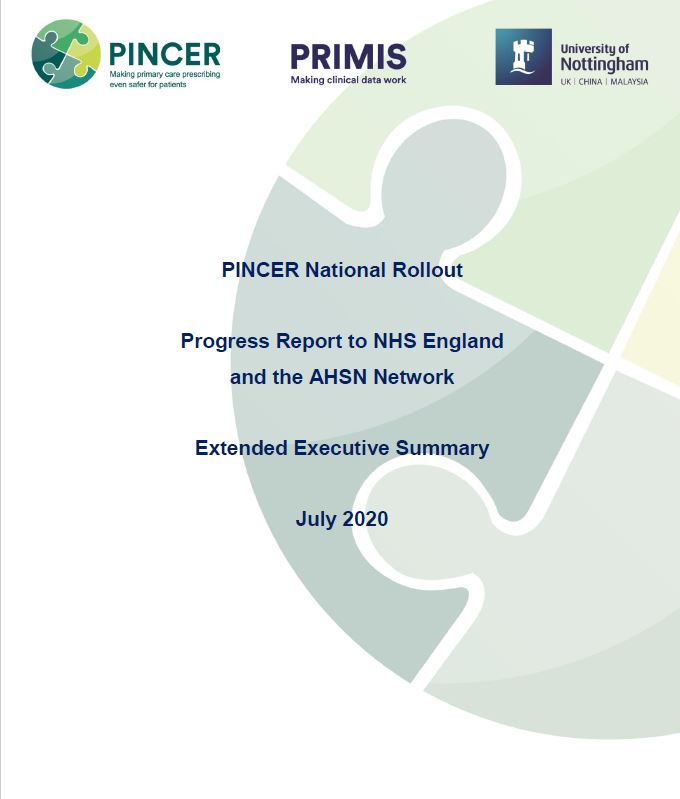 More information
Health Innovation North West Coast is continuing to support the programme until June 2022. Training sessions will begin in September 2021.