A key part of our work is improving the management of cholesterol. Good management of cholesterol is important in preventing heart attacks and strokes, but patients with high cholesterol are likely to be asymptomatic.
The clinical pathway for lipid management now includes bempedoic acid within primary prevention and inclisiran in the secondary prevention pathway. This pathway unifies multiple NICE guidance and technology appraisals into a single document to support clinical decision making on lipid management, supporting the NHS Long Term Plan's ambitions for cardiovascular disease prevention and to improve patient outcomes. The pathway can be found here.
We are always looking for PCNs and GP practices who need our support to help implement the lipids pathway, please contact michelle.coleiro@healthinnovationnwc.nhs.uk to explore this further.


Tackling Cholesterol Together - education programme
Health Innovation North West Coast is part of a collaboration led by the NHS Accelerated Access Collaborative (AAC), the AHSN Network and cholesterol charity, HEART UK, to deliver an education programme for healthcare professionals around cholesterol.
Tackling Cholesterol Together supports the NHS England and NHS Improvement (NHSEI) three-year lipids workstream, to raise awareness that Cardiovascular Disease (CVD) is preventable yet currently kills 136,00 people every year.
The programme supports healthcare professionals to address under diagnosis and under treatment at scale; and use new models to manage cholesterol, using an updated NICE-endorsed pathway, with certificates issued for completion of all content.
Tackling Cholesterol Together is delivered though videos, podcasts and online modules. Topics covered range from statin intolerance to behavioural change, Familial Hypercholesterolaemia (FH), novel therapies on the horizon, and much more.
Familial hypercholesterolemia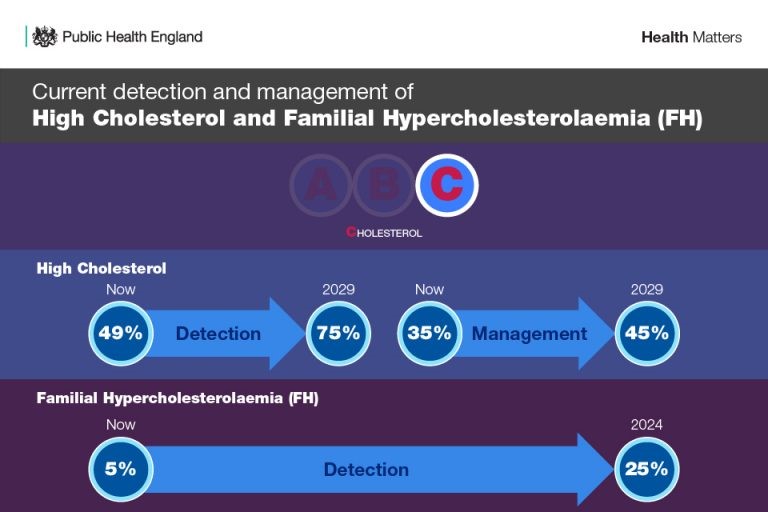 We are supporting national ambitions to improve cholesterol management and the identification and management of familial hypercholesterolemia (FH), a hereditary condition of high cholesterol that is evident from birth but is rarely picked up before the individual has a CVD event.
Parent-child screening for familial hypercholesterolemia
Health Innovation North West Coast is one of seven AHSNs taking part in a national parent-child screening programme to detect familial hypercholesterolemia. Infants will be offered a heel prick at their appointment to be tested at the surgery for elevated cholesterol. If high cholesterol levels are detected the sample will be sent to the regional genomics hub for genetic testing. If familial hypercholesterolemia is identified the family can receive genetic counselling and be registered as having the condition and offered treatment.
Surgeries in the North West Coast have begun this screening programme.
GP practices wishing to join the pilot are welcome to contact Michelle Coleiro, programme manager, at Health Innovation North West Coast michelle.coleiro@healthinnovationnwc.nhs.uk.
For more details on the programme, please contact Health Innovation North West Coast Project Manager Michael.Foo@healthinnovationnwc.nhs.uk.
System levers to achieve CVD ambitions
Public Health England has identified lipids management as a key area of improvement. Over the next three years, the AHSN programme will focus on:
detection of people with FH
improvement in the management of people with resistant high cholesterol
Key national support initiatives
Accelerated Access Collaborative
A number of products have been funded through this approach, including PCSK9i
NICE-endorsed pathways for lipids and statins intolerance
Supporting clinical guidance CG181, CG 71, and technology assessments TA385, TA394
Outcomes
Outcomes will be measured in accordance with national metrics:
Improving the numbers of patients with high cholesterol managed in accordance with NICE guidance
Increasing the numbers of patients identified with FH
Improving the number of appropriate referrals to lipid clinics
Improving the number of appropriate referrals to lipid clinics


Lipid management in primary care education video – communications toolkit
The AHSN NENC has produced a short educational video for GP practices with a focus on lipid management and the secondary prevention of cardiovascular disease. In the video, GPSI Professor Ahmet Fuat shares advice and outlines the support available to help practices to achieve 2023/24 QOF cholesterol targets.
Mastering cholesterol to optimise CVD prevention webinar series
The Mastering cholesterol webinar series was aimed at healthcare professionals working in primary, secondary and tertiary care. The series provided attendees with the confidence, knowledge, and skills to navigate a comprehensive, holistic approach to treating patients with high cholesterol across all age groups.